Stackable caps for the PP jars
There are numerous lids and closures available for the PP jars.
For certain products the requirement is that the jars are stackable so the cap needs to be designed in such a way that the bottom part of the PP jar actually fits the lid. The PP lids can be more rounded or feature a flat and straight design.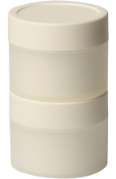 Range of different liners
A range of different liners and seals can be assembled in the closures and lids of PP jars. Normally a tri-seal or an EPE liner is sufficient for protecting the contents like creams or waxes from drying out.
Double walled jars are mostly used for the packaging of creams, body scrubs and hair waxes.